TESTIMONIALS
provides compassionate care during challenging times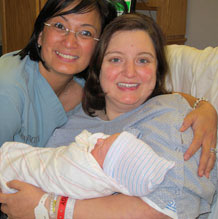 "I have been a patient of Dr. Apigo for 10 years now. I would not trust anyone else with my health and have sent many friends to her. Of course, everyone sings her praises! The past couple of years, she has become a fixture in my life and I could not be more grateful to her. My husband and I had suffered two miscarriages and Dr. Apigo was proactive and quickly worked to diagnose the problem. She sat with me and my husband in her office to explain in detail, her plan to help us have a successful pregnancy. When I got pregnant again, she monitored me closely because my pregnancy was high risk. She was up to date on the latest treatments for my condition and never hesitated to ensure I had the best prenatal care available. She was always accessible and took time to answer my questions which helped ease my fears of another loss. Her kind words and reassuring medical guidance throughout my pregnancy showed me how important the well being of me and my baby were to her. When complications arose in my third trimester, I had complete faith in her ability to address the problem. We induced labor early with success! Without her, I would not have my beautiful, healthy baby boy! Thanks!"
best OB/GYN - warm, caring and saved baby's life
"As a mother of 7, I know a thing or two about OB/GYNs and I have to say that Dr. Apigo is by far the best I have met. She is warm and caring and and makes you feel comfortable. You almost forget that she is a doctor. Until there is an emergency and she takes charge and saves your baby's life at the last minute - as she did with my youngest! Look no further, you have found the right doctor!"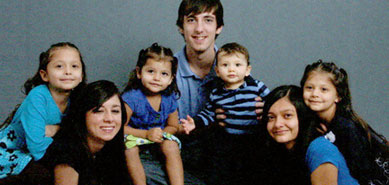 received finest treatment - highly skilled, caring and understandable
"Dr. Apigo has been my OB-GYN for more than twelve years, during which time I received the finest treatment I could ever wish for from a physician in any discipline. She has an extremely high level of medical knowledge, skill and intellect. At the same time, she is able to explain the medicine to her patients at a level that we as lay people can easily understand. Additionally, she is the most kind, compassionate and attentive doctor I have ever had. Based on all of that, Dr. Apigo was the ONLY choice for me when it came to receiving care during my first (and what will be my only) pregnancy and recent delivery of a healthy baby girl. I am of advanced maternal age which made my pregnancy somewhat high risk, and I had a number of unforeseen complications, the last of which was an emergency C-Section. Dr. Apigo personally ensured that the health and well being of my baby and me were always her top priority, and that the experience was wonderful and memorable. I feel very fortunate to have Dr. Apigo as my doctor."
best OB/GYN doctor in Phoenix, Arizona
""Dr. M. Josefa Apigo is the best OB/Gyn in all of Phoenix! I would never go to anyone else. She delivered my first child and then a year later my second. Her warmth, compassion, knowledge, and expertise are everything you could ask for and more. But beyond that, it is her enthusiastic personality and approachable style that set her head and shoulders above the rest. I recommend without reservations Dr. Apigo to anyone in the Valley who needs an OB/Gyn. Go to her, you'll be happy you did! Thank you Dr. Apigo!

With gratitude and love,
~Twice Blessed~"